Sign Up! Hardware Science Virtual Camp [Monday, March 15 - Friday, March 19, 2021]
Feb

12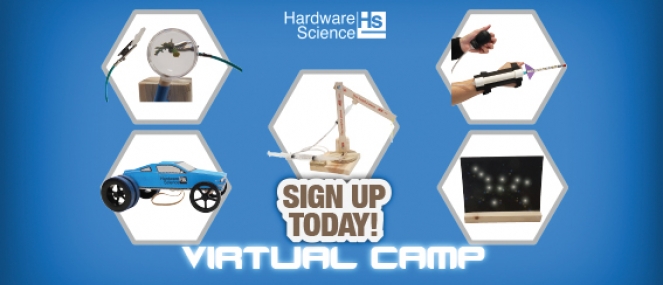 Hardware Science Camp - ONLINE!

Monday, March 15 - Friday, March 19, 2021, 1:30PM - 2:30PM, HST
*Registration for CONTINENTAL US participants closes Sunday, 2/28/2021.
*Registration for HAWAII participants closes Sunday, 3/7/2021.
Sibling kit comes with 2 of each project.
Hardware Science is back with another 5-day online camp!
Below is a list of projects that your Junior Hardware Scientists will be constructing:
• Monday - Big Face & Big Stuff Magnifier
• Tuesday - Pneumatic Crane
• Wednesday - Wrist Rocket
• Thursday - Slingshot Car
• Friday - Fiber Optic Constellation

Zoom links will be emailed to the address used during checkout. Recorded sessions will be sent each day.
Tools included in the kit: Phillips Screwdriver 6' Measuring Tape
Tools needed from home: Hot glue gun (low temp recommended) & glue sticks Pencil and colored markers Scissors Scotch tape Masking tape